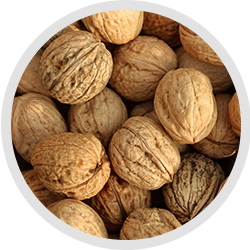 Walnuts
California walnuts account for 99 percent of the commercial US supply, two-thirds of the world supply, and are well known worldwide as a top quality walnut. Our walnut orchards are located in the heart of the San Joaquin, flourishing in the mild climate and fertile soils.
Walnuts are a nutritional wonder full of antioxidants, Omega 3 fats and rich in nutrients. Not only can they be enjoyed as a snack on their own but they are also an excellent choice to enhance the profile of any product or menu.
M&R is an experienced handler of California's finest in-shell, culinary and ingredient walnuts. Our varieties include premium shelled and in-shell walnuts such as Hartley, Howard, and the world renown Chandler.

---
| | | |
| --- | --- | --- |
| Hartley | October to January | N/A |
| Howard | October to January | N/A |
| Chandler | October to January | N/A |